True to their slogan "Binan in Progress", in May 2009, the Municipality of Binan awarded the upgrading of its RPTA system into the latest Oracle 11g platform, and acquired the Amellar Revenue Collection System or aRCs, a point-of-sale system for miscellaneous fees. Â Â  And as goodwill to Binan, Amellar also provided the Amellar for Statement of Receipts and Expenditures System or aSREs at no additional cost. The aSREs facilitates the easy and real-time generation of various SRE reports required by the BLGF.
Amellar conducted a two-week training for systems users from August 10-25, 2009 at the Treasurer's Office, to enhance/develop users' skills in operating the upgraded Amellar RPTA, and the new aRCs and aSREs systems.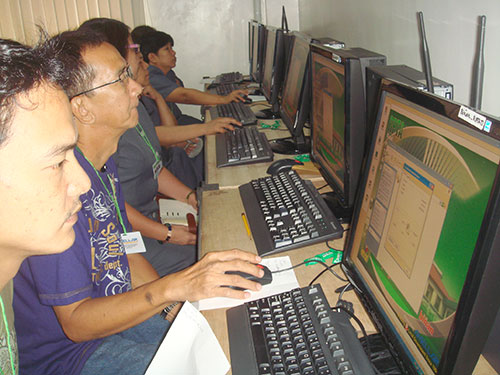 On August 10, 2009, aSREs users took part in the one-day lecture and hands-on training conducted by software developer Christian Carandang and SDD Manager Allan Javier to guide them in the use of the newly developed system.  The lecture included a synopsis of the SRE principles and a detailed demonstration of how such principles were incorporated in the computerized system. Towards the end of the training, an action plan was also discussed to ensure that receipts and expenditures data from the last seven months will be encoded in the system so that more accurate reports can be generated.  Training participants included:  MTO – Severina Alonalon, Charito Dungo, Leilani Almarines, Teresita de Chavez and Victor Villanueva; Accounting Office – Glenda Abad, Gildalina Medina, Rainier Mendoza, Merle Bestudio, Sotero Tan, Saturnino Vicmundo and Haide Dimaranan; and Budget Office – Fe Serino.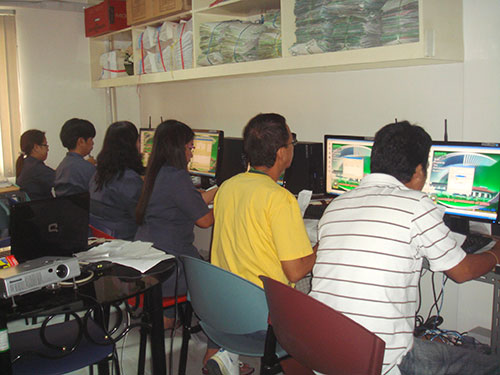 On August 11, 2009, aRCs users received instructions on how to navigate and utilize the various aRCs modules and features.  Because aRCs is highly transactional in nature, much time was allotted for hands-on exercises where users simulated the actual collection process with the supervision of software developer Christine Sarsonas and Partner Support Analyst Tricia Oriel.   The trainees were from the MTO and Accounting Office, namely, Mildred Cambal, Rhodora Hernandez, Gina Sanchez, Robin Salandanan, Victor Villanueva, Rainier Mendoza, and Gildalina Medina.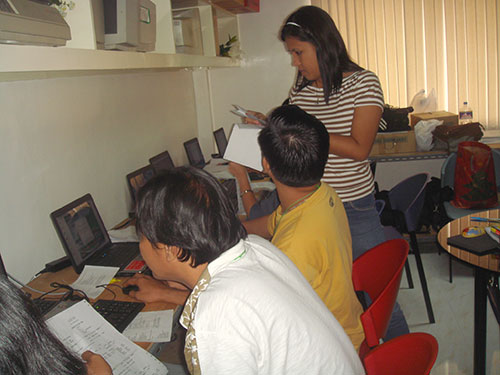 Amellar RPTA users, who have been operating the old Amellar RPTA – CLI version since 2000, also underwent an eight-day, two-part training.  The training included a refresher course on RPTA principles and then followed by intensive hands-on exercises to ensure users' familiarization and mastery over the new Amellar RPTA – GUI version.  The first part which ran on August 12-14, 17 & 18, 2009 was conducted for the RPTA Assessment users, while the second part ran on August 19, 24 & 25, 2009 for the RPTA Collection users.  These training were conducted and supervised by Zaidi Ong and Tricia Oriel (Partner Support Staff).
Amellar RPTA Assessment Users' Training participants included: Alelie de Vera, Nerissa Alonalon, Lenita Bawalan and Jolyn Durana (MAO staff); Roberto Espeleta III, Perlito Carpena, Nelita Torres, Ronald Oliveros, Ryan Pintucan, Isabelo Edoria Jr., Ronaldo Villanueva, and Ma. Cecilia Sison (Binan Staff).  Amellar RPTA Collection Users' Training participants were as follows: Consorcia Formiloza, Jocelyn Kakilala, Rowena Arzola, Leah Espeleta, Gloria Laserna, Marilou Veracruz (MTO staff); Roselito Laserna, Arnel Karunungan, Peejay Mercado, Marissa Sta. Maria, Fe Almarinez, Ma. Luisa Raymundo, and Angelina dela Cruz (Binan Staff).