On May 7, 2009, the Project Management Board for the Fiscal Modernization Project of Malolos City (FMPM) convened for the presentation of the FMPM Final Report by Amellar. The Final Report, which was submitted on schedule in March 2009, contains the complete project documentation, from inception to the current post-online implementation. The Final Report presentation signifies the formal turnover of the FMPM project management to the CGM.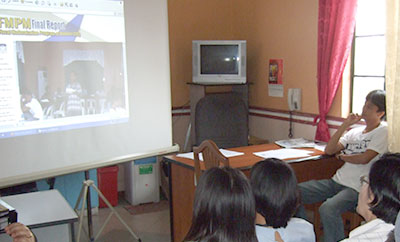 Integrating RDBMS, OLTP, and GIS technology into two of the major local revenue generation processes – RPTA and BPLS – the FMPM expects to improve the City's revenue operations, enhance delivery of basic services, integrate revenue offices, organize digital information, and increase information dissemination efficiency.
Amellar was able to accomplish the FMPM by following a comprehensive implementation approach and work plan over a one-year schedule starting May 2008.  The four major phases, which include initialization and preparation, production, online, and post-online were completed within the agreed schedule, budget and specifications.
Going Online
Full online implementation of the BPLS started in August 2008, while the RPTA system started in December 2008.  Using the Amellar BPLS, the City's actual business tax collections on January 1-31, 2009 amounted to almost Php36 million, already more than half of 2008's total collection of Php65 million.  If the City continues and further strengthens its collection efforts using the Amellar BPLS, it is expected that Malolos will overwhelmingly surpass last year's business tax revenues.
The computerization of RPTA assessment records cleansed and corrected manual data and established the City's RPUs at 82, 641 in March 2009, with a corresponding TAV of almost Php 3.9 billion.  With a 2% tax rate, the City's annual current year real property tax collectible is about Php 78 million.  This excludes prior year delinquencies, which were pegged at roughly PhP270 million as of March 2009.  The 2009 first quarter collection was posted at Php 27.4 million.
Points to Ponder
Included in the Final Report are Amellar's recommendations to further ensure the long-term sustainability of the FMPM and optimization of its benefits to the City.  For its first recommendation to further increase tax collection, Amellar suggested that Malolos leverage the Amellar systems to increase collections and focus on Top Delinquent Accounts.  Since the Amellar RPTA can generate in real-time the list of tax delinquents, among other intelligent reports, the City can easily identify who to collect from and adopt other more targeted collection strategies.
Other major recommendations include:
1. Improve database integrity.
2. Strengthen and build capacity of the TSG and users.
3. Protect hardware components.
4. Formalize technical support process.
In behalf of the CGM, the presentation was attended by the FMPM-PMB namely: Mr. Eduardo Lucero (Chairman), Atty. Jeffrey Cruz (Vice Chairman), Mr. Julius Degala (Secretariat), Mrs. Edmunda Santos (Chief of Staff), Mrs. Leonora Resolis (City Assessor) and Engr. Reynaldo Garcia (GSO). Also in attendance were the FMPM-Technical Support Group and users headed by Mr. Wendell Bautista (OSA), Mrs. Crispina Salazar (CTO-RPTA AA), Mr. Dennis Dimagiba (CAO- RPTA AA), Ms. Ruby Torres (CAO-RPTA AA), Mrs. Mellany Catanghal (CTO-BPLS AA), Mrs. Heidi Vendivil(CMO-BPLS AA), Mrs. Darlene Collantes (CTO-BPLS user) and Mr. Felix Lagman (CTO-RPTA user).
Amellar representatives include Arlene Gella (EVP), Cristy Palma (FMPM Project Manager), Allan Javier (SDD Manager), Jester Erestain (Partner Support Analyst) and Zaidi Ong (Partner Support Assistant).